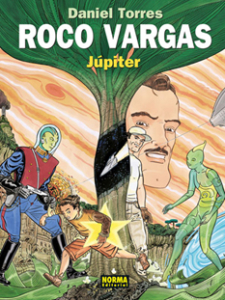 JÚPITER
Roco, in a strange coma since his most recent and eventful adventure, suffers feverish dreams about his past.  His deliriums, however, are so real that the reader asks himself how much of what they´re reading about our hero is really true.  This onerous journey takes Roco to Jupiter together with an urma, a mythical creature that dominates space-time. There he finds himself confronted with a terrible dilemma: to permit the destruction of the Solar System or to change one´s own past. 

Video:
NORMA EDITORIAL Entrevista a Daniel Torres – Roco Vargas: Júpiter
Daniel Torres nos habla de su obra más emblemática. Creado en los años ochenta, Roco Vargas ha acompañado la trayectoria del artista hasta nuestros días. Una obra retrofuturista imprescindible para comprender el cómic español contemporáneo que ha sido traducida a multitud de idiomas.
News:
El cómic en RTVE.es (09.05.2017), por Jesús Jiménez
Daniel Torres: "'Júpiter' podía haber sido la última aventura de Roco Vargas"
Zona Negativa. Opinión y actualidad sobre el mundo del cómic y galaxias cercanas.
Roco Vargas: Júpiter, por Diego García Rouco

PUBLICATION INFORMATION
Roco Vargas. Júpiter, de Daniel Torres
Year of publication: 2017
Nº of pages: 80 
Publisher: NORMA EDITORIAL
Language: Español
ISBN: 978-84-679-2639-2


COLLECTOR´S EDITION. JÚPITER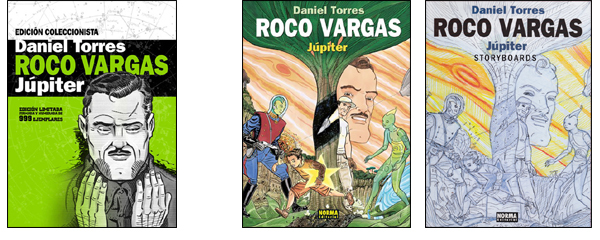 PUBLICATION INFORMATION
Roco Vargas. Júpiter Storyboards, de Daniel Torres
Year of publication: 2017
Nº of pages: 80 
Publisher: NORMA EDITORIAL
Language: Español
ISBN: 978-84-679-2640-8